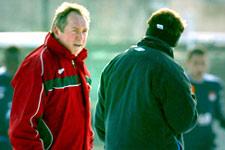 Gérard Houllier has chosen a 16-man squad for the trip to Alsace: Berthod, Benzema, Cacapa, Carew, Coupet, Cris, Diarra, Diatta, Fred, Govou, Juninho, Monsoreau, Pedretti, Tiago, Vercoutre, Wiltord.
Having announced his first OL squad for 2006, Houllier then answered questions put by the media.

So Gérard, the first match back...
"It's the first match of a new championship. We want to win this second 19-round league to prove that we truly deserve the title. There's no question of resting on our laurels and trying to sit on our lead. We're starting again from zero. I'm also happy to be playing four matches back-to-back because it will allow us to get straight back into the thick of things. We'll be in the English rhythm and we won't complain."

Is restarting against the bottom club important?
"It's a match like any other. But they're a team that will play every match as though their survival depends on it, we're a team that want to win the league and are coming off a defeat."

How do you rate this Strasbourg side?
"In the first match between us they caused us some problems. On Wednesday they have to go for broke. For me, this team is an enigma. They often paid dearly for individual errors, they lacked success in front of goal, but they played good football. They have the talent... perhaps not the confidence. At any rate, we're going their to win. I don't care how we do it, but I want us to show that we can work hard, suffer and still come out on top. We're ready, despite certain players being a little out of form. That will pass with time."

Finally a word on all the rumours...
"Thomert, Wiltord, Pedretti… and everything that concerns these players is just talk. As for Diatta, I'm still waiting to hear when he has to join his country for the CAN. At any rate, we always have François Clerc."

Ben Arfa, Malouda, Clément, Clerc, Hartock and Riou will play in a training match against the CFA side on Wednesday.