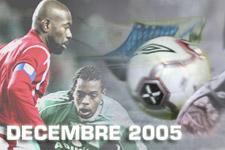 What a shame to be defeated by Lille just before the break. But the loss couldn't take the edge of an excellent first half of the season which saw OL beat PSG and take a point from Saint-Etienne...
The month began with a great performance against Laurent Fournier's Parisians. A goal from Fred at the start and another from Carew at the end saw the scoreline read 2-0 at the end of ninety minutes. Three days later they took on the Norwegians Rosenborg in the Champions League. Gerard Houllier decided to indulge in a little squad rotation and a tight match was finally won late on when Fred scored after good work from Ben Arfa. Undefeated, the Lyonnais topped their group with 16 points, a club record. On December 16 they discovered their opponents in the round of 16...

No time to waste! OL head to the Forest for the derby! In freezing and diffficult conditions the 35 352 spectators saw a tight and competitive affair which finshed scoreless to the satisfaction of both sides.

A few days before the break saw the visit of Lille. Did Les Dogues have what it took to knock off Lyon? Within minutes of the kick off the answer appeared to be 'Yes'. Lyon never seemed up for the fight and Claude Puel's side, typically well-organised and competitive were right on song. It had to happen sooner or later and it happened on on December 16. Lille ran out deserved 3-1 winners. The result was a shame, but OL's rivals couldn't profit. OL still lead by12 clear points from Auxerre, Bordeaux and Lens. The first half of the season was quite simpply astonishing.

With Christmas came the rewards for the year. Coupet was named the best keeper in the world for 2005, not to mention his seven other teammates that were picked in the French Dream Team, with Paul le Guen on the bench. Summer is also the time when teams try to make slight adjustments to their squads. However January should be calm for OL. Pierre-Alain Frau was loaned to Lens at the start of December. Julien Viale headed for Istres three weeks later. No new faces yet. 27 matchs already down; at least another 22 to come… perhaps as many as 32 before the end of the season. A fifth title as French Champions? A Coupe de France? A Champions League? Plenty left to play for...