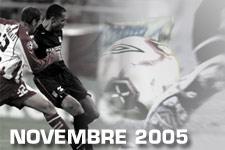 Right up until December 31, 2005, you can relive all the highlights of OL's magical year, month by month. Today it's November.

Olympiakos-OL
November 2: It is a feared trip to Athens because of the atmosphere and the pressure applied by the Greek public. Olympiakos' supporters were up for the battle, but so was OL. Babangida opened the scoring, but then it was one way traffic with Juninho's superb free-kick. With the game under total control Lyon added two further goals through Carew and Diarra.

Toulouse-OL
November 5. Three days after the European evening, Lyon found the necessary force to see off Toulouse. A solitary Govou strike was enough for the quadruple French champions. A seventh consecutive Ligue 1 win.

OL-Troyes
November 19: A trap if ever there was one. And Troyes were perfect in their role as underdog and even open the scoring through Nivet. But it takes more than that to upset Cacapa's men. And when the attackers can't find a way through there's always Cris. The Brazilian was at the double as OL won 2-1.

Real Madrid-OL
November 23: Go to the Estadio Santiago Bernabeu and hold your own. That was the aim as Lyon feared a backlash for the thrashing of Real in the first game. Real did indeed open the mark via Guti but Carew equalised and Lyon took control of the match for the last 45 minutes. That could even have won it. Afraid? Not likely!

[IMG39583#R]Nice-OL
Who can beat OL? It's the question doing the tour of France's football stadiums. Everywhere you go, OL is the one they want to beat. But it wasn't to be Nice... The Stade du Ray thought they had it won but Sidney Govou popped up to rain on their parade and earn a share of the spoils. Sometimes you have to know how to settle for a point...