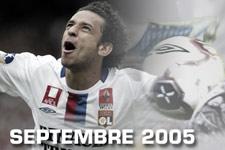 Right up until December 31, 2005, you can relive all the highlights from OL's breath-taking year month by month. Today we look at September.
Saturday, September 3: Les Bleus take on the Faroe Islands in Lens. France wins 3-0. Goalscorers: Cisse (13 and 76), Olsen (18 o.g.). The wins saw France rejoin Switzerland and Ireland at the top of Group 4.

Wednesday, September 7: France v Eire. France won 1-0 thanks to a Thierry Henry goal in the 68th minute. Les Bleus are second in group 4, level with Switzerland.

Friday, September 9: ZIDANE is injured at the end of Ireland v France. He will be absent for three months.

Saturday, September 10: OL host MONACO for round 6 of the league. OL win 2-1 thanks to goals from FRED (5). It's the Brazilian's first goal in the league for Lyon and he doubles up in the 49th minute. GIGLIOTTI reduces the score in the 78th. TIAGO makes his Stade Gerland debut in this match.
Lyon lead Paris Saint-Germain by three points in the standings.

Sunday, September 11: At the end of week 6... OL lead with five wins from six games... first win of the season for OM 1-0 over Sochaux…

[IMG39581#R]Wednesday, September 14: This evening the Lyonnais go Galactic. The big day has finally arrived and the side built by Jean-Michel AULAS ate Real alive.
OL v REAL: 3-0…
Carew (21), Juninho (26), Wiltord (31)
JUNINHO scored his 52nd OL goal and his eighth in the Champions League.
Also in the Champions League, LILLE made a disappointing start losing 1-0 to BENFICA.

Saturday, September 17: Lyon travelled to Bordeaux for week 7... the games ends 1-1... Smicer opened the scoring in the 6th minute before Wiltord equalised in the 64th.
Standings: Lyon lead, three points ahead of Le Mans.

Monday, September 19: Didier DESCHAMPS quits as coach of Monaco. He had been there since June 2001.

Thursday, September 22: Lyon host Lens and the game ended 1-1. Once again Lyon conceded a goal in the opening six minutes, this time by Coulibaly. Tiago scored his first OL goal by equalising in the 38th minute.
Standings: Lyon hold a two-point lead of PSG
On this day, the companyAPICIL, become shirt partners with Olympique Lyonnais for three years.

Sunday, September 25: Lyon bounce back with a 1-0 win over Nantes. Coupet is unbelievable. Fred scored the winner with ten minutes left. Nantes 0-1 Lyon.
Monday, September 26: Draw for the last-32 of the Coupe de la Ligue: Nantes-OL, ASSE-Lille , Bordeaux-OM.

Tuesday, September 27: Champions League: Lille are held 0-0 by Villarreal at the Stade de France.

Wednesday, September 28: Champions League (Match Day 2, Group Stage): Rosenborg 0-1 OL - Lyonnais goal from Cris in the 45th minute. At the end of the match Lyon are top of Group F. Real beat Olympiakos, 2-1.