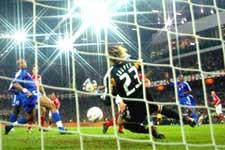 The sports paper l'Equipe published its Dream XI on Tuesday, a team constituted entirely from big names. Sagnol, Terry, Carragher and Maldini form the back four. Kaka, Lampard, Gerrard and Ronaldinho are the midfielders. Chevtchenko and Eto'o are in attack while between the posts.
Grégory Coupet is chosen for the first time in the World XI. Last year he was ranked the fourth-best keeper but in 2005 he is ahead of Cech the Chelsea 'keeper, Buffon (Juventus), last season's winner. Then Dida (AC Milan) and Dudek (Liverpool). Kahn was elected best keeper in 2001 and 2002, Barthez in 2000. The only other Frenchman in the list was right-back Willy Sagnol.
The coach of this team is Rafael Benitez, current coach of Liverpool, European champions.
Concerning the back four, while John Terry made his entrance into the defencem Cris was named first reserve... just like Juninho in midfield. Diarra was named in seventh place. In the other positions, Réveillère, Abidal, Caçapa, Wiltord, Carew, Malouda and Le Guen all received journalists' votes.
There were no Frenchman in last year's side and Coupet is also the first Lyon player to be named in the team.

France Football has also announced its prize: that of French Player of the Year for 2005, which returns to Thierry Henry for the fourth consecutive year. Second place went to none other than Gregory Coupet who edged out Claude Makelele. Malouda finished 11th, Reveillere, 16th... The selectors were the true greats of French football such as Zidane, Kopa, Trésor, Platini… amongst others.
The publication continued to hand out the gongs: Olympique Lyonnais was named best French club. Juninho the best foreign player for the second consecutive year .