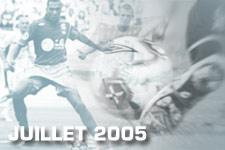 Right up until December 31, 2005, relive all the highlights of OL's amazing year, month by month. Today you can check out June: goodbye Paul Le Guen, welcome Gérard Houllier, John Carew, Sylvain Monsoreau and Benoit Pedretti...
June… It's the month of school exams, summer is just around the corner and the jackets and scarves are put away for another year...

The sun maybe out, but it's more or less a month of uncertainties for OL.

By now it's official, Paul Le Guen has quit the four-times French champions.

And then HE arrived... The day after the final match, the final party, a press conference was called and his successor was presented to the fans and the press: HIS name is Gérard Houllier.
It's a name already well known in Frqnce, and in the European football scene. The announcement started a stir and already the first interrogations were begun...
What will he change, how will he go?

But we know that rumours spread like wild fire in June...
The name of Baros circulated, Houllier's protégé, the were few departures, but Michael Essien was courted, pulled, even forced by Chelsea...

Benoît Pedretti, after his disappointing year with Marseille, signed on with OL's sporting objectives more in keeping with his own ambitions.

Then another former Sochaux player joined OL: Sylvain Monsoreau, without making waves, but determined to be trasformed from a 'lionceaux' into a 'Lion'...

All eyes are on OL and people are waiting to see which big star Jean-Michel Aulas can snare.
The road to Baros seems blocked... the Drogba option is quickly evoked, alongwith Benjani, Toulalan, Chamakh... names and more names but nothing conrete...

[IMG39578#R]And then one night towards the end of the month a plane from Istanbul arrives carrying a cargo already well-known in Lyon circles... John Carew had signed and would play up front the next year. A huge coup considering the potential of this 25-year-old, already a veteran of the European stage. Something Lyon knew only too well after the giant Norwegian helped knock out the Gones in the 2000 Champions League with Valencia.

And suddenly the season is already to begin again...
The eternal hopes at the start of a new season come with the two new men at the helm, Patrice Bergues and Gérard Houllier… towards a record fifth title?Or the Holy Grail that is the UEFA Champions League?

Rendez-vous in May 2006 at the Stade de France?