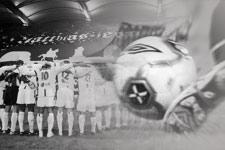 Right up until December 31, 2005, you can check out all the highlights of OL's year - month by month. Today we take a look back at April...
Black April

The deaths of two supporters, Mathias and Jean-Yves, elimination from the Champions League and a first home feat of the season: April was not a great month for Lyon.


For Matthias and Jean-Yves

There are times when football seems to mean so very little. And yet it was the round ball, and their team, Olympique Lyonnais, that prompted Mathias and Jean-Yves to hit the road for Nantes on that Black April 3. Tragically their minibus never reached the Stade de la Beaujoire. A terrible accident claimed the lives of the two supporters and injured another six people.

Just a few hours after the tragedy, the emotion was evident at kick-off in Nantes. It would be even more intense on April 18 for the visit of Paris Saint-Germain. The Stade Gerland was full in one final hommage to its two loyal servants. A silence descended over the stadium as the two sides made their way onto the pitch. Flowers were placed in front of the southern stand by the two teams and there were many messages of condolence around the ground. Such as this one from their friends, the 'Lugdu': "Your star will shine forever over Lyon and in our hearts".


Champions League: A brutal come down

There was hope, and then cruel disappointment. Claudio Cacapa and co. went within a whisker of qualifying for the last four of the Champions League. A semi-final berth was within arms reach, but ultimately it was with heads bowed that the Lyon players left the field after an interminable quarter-final tie.

Everythig had started so well. OL seemed to have learnt the lessons of their elimination against Porto 12 months earlier and after just 10 minutes of play at the Gerland, Florent Malouda had given Lyon the lead. Paul Le Guen's chargers had several occassions to double their lead, but in the end ot was PSV that equalised with a Cocu goal. Just bad luck. But we still thought Lyon had what it took to win in the Netherlands. We believed it even more when Wiltord opened the scoring at the Phillips Stadion on April 14. Ol held out but were beaten at the start of the second half when Alex equalised. Back to square one. Regulation time ended and the two sides headed for extra time. Then there was that infamous 100th minute where Nilmar charged through and was brought down by Gomez in the area. Penalty? Mr Nielsen said no. With it went OL's chances of qualifying as minutes later they were knocked out on penalties. A night to forget...


PSG end Gerland's invincibility

It was hard for the players to lift themselves back up after the bitter European disappointment. Despite their undoubted talent and mental strength, Lyon were to suffer once more. PSG won 1-0 thanks to a Daniel Ljuboja goal at the end of the first half. PSG, coached by the former Lyon player Laurent Fournier, managed to hang on for the win and ended a 12-month undefeated run on home soil. Another knock in a recent series of knocks. However, OL bounced back quickly, most notably with a 3-0 win over Auxerre thanks to goals from Juninho, Cris and Essien.