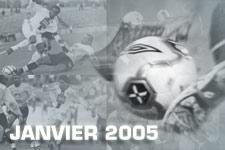 Until December 31, 2005, join us as we take a look back at all the major footballing news, day by day, month by month. Today we take a look at January…
January 3: Bright sunshine floods Tola Vologe. Claudio Cacapa is back and undertakes his first sprints since his injury against Strasbourg. Hatem Ben Arfa is with him jogging. Things are less rosy at Nantes where Loic Amisse is shown the door, replaced by Serge Le Dizet.

January 5: The frosts are back at Tola Vologe. But the big news of the day is that Bixente Lizarazu has quit Marseille and returned to Bayern Munich.

January 8: In the Coupe de France, last 64, OL beat CFA side Viry Chatillon, coached by former Lyon player Jean-Pierre Orts (1986-1988), 2-0 – goals to Juninho, 28, and Nilmar, 65.

The Elber Affair: OL release the following statement, after club medical staff reveal Elber is in no state to play football: "Due to the current affair, a decision has been made and Nilmar will be registered for the rest of the season."

January 10: Olympique Lyonnais learn they will be playing Toulouse in the last 32 of the Coupe de France.

January 11: First league matches of the year with round 20. Troussier struggles at OM while OL, Bordeaux, Lille and Auxerre are still undefeated at home.

January 12: (Round 20) Sochaux-OL. Bergougnoux turns 22. He celebrates his first start for his 22nd league appearance and scores after just 6 minutes, Diarra adds the second on 41 minutes. It's OL's 6th away win of the season. OL leads, 6 points ahead of Lille and 9 ahead of Monaco

January 14: Claudio Cacapa signs a two-year contract extension with another two-year option. Karim Benzema sings his first professional contract for three years, taking effect on July 1.

January 15: (Round 21) OL beat Metz 2-0 in freezing conditions. Juninho opened the scoring with a free-kick – his 15th in a Lyon shirt in the 85th minute. Bergougnoux completed the scoring in the 88th.
Monaco thrashed Caen 5-2; Lille beat Bordeaux. OL maintain their advantage at the top of the table.

January 16: Morientes quits Real Madrid to join Liverpool.

January 21: Emmanuel Petit retires at 34 years of age.

January 22: (Round 22) LILLE-OL at Stadium Nord. In terrible conditions OL lose 2-1 to Lille for Paul Le Guen's 200th match in charge. Moussilou scores twice (3rd and 68th), Juninho reduces the score with a 75th minute penalty. Les Dogues close to within three points at the top of the standings. The loss means there is no team still undefeated on the road.

January 24: A bad day for Joen Muller, fired as coach of Lens. Training at Tola Vologe is freezing cold.

January 26: (Round 23) OL-RENNES 2-1. Abidal is back. Goals to Bergougnoux (44) and Govou (45) after Rennes opened the scoring through Perriér-Doumbé (31). Marseille lose at home to Sochaux 2-0, Lille draw away to Nice and Auxerre climb into contention. OL leads, five points ahead of Lille, Auxerre move third.

January 31: Anelka finalises his three-year deal with Fenerbaçhe, quitting Manchester City… OL heads to Bastia but the match is called off due to heavy snowing in Corsica.