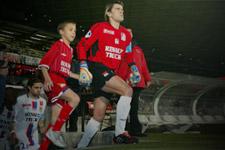 In 90 minutes the Lyonnais will be on holidays. But before they pack the sports' bag away, before they go to visit family in resorts around the world there's still one more match to win to complete an extrardinary first half of the season.
Claudio Cacapa and his teammates have spoilt their supporters in the 26 competitive matches played in the four months so far this season. Gérard Houllier has a near-perfect record since taking over the team. OL is quite simply, from another planet. It would be a shame to ruin the festive spirit with a poor result, especially at home.

"OL is a very good team with understudies for every single position, the danger can come from anywhere. We have to try and stop them from playing their football. The three midfielders direct proceedings and you have to close them down to stop it happening. On top of that Fred and Carew are superbly athletic strikers... We need the points to stay in the leading pack and we're coming to Lyon to get them!" said the elegant midfielder Mathieu Bodmer, on Lille's website.