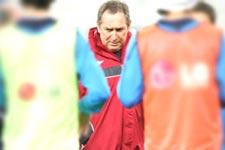 For the final match of the first half the season, Gerard Houllier has chosen the same 19 players that made the trip to Saint-Etienne last week. Malouda, Abidal and Berthod are still missing and there are no surprises in the list...
The Lyon Squad:
Ben Arfa, Benzema, Cacapa, Carew, Clément, Clerc, Coupet, Cris, Diarra, Diatta, Fred, Govou, Juninho,Monsoreau, Pedretti, Réveillère, Tiago, Vercoutre, Wiltord

Gérard Houllier

"It's our last Champions League clash of the year and we'll be treating it with the respect it deserves. Lille had a good run in Europe this season in a difficult Champions League group. The game? It promisies to be an interesting match in terms of tactics. You have to have a plan to take on this team: they're a team that play to their strengths. My squad is going well. Against Saint-Etienne the pressure of the situation affected our play and I think it cost us a little. Obviously, at this time of the year, the weather conditions can have a major bearing on the match. Personally, I prefer a hard pitch to a frozen one, because skill can still prove the difference. The final match? It should be easy because there's only 90 minutes left but I'll be asking my players to give it everything to ensure they play to their best standard."

Gérard Houllier then spoke briefly about the winter break and the plan for getting back in action: "We're back with one training session on December 28 then two on the 29th and 30th and one on the 31st. Then we've got four games in 12 days including three on the road, almost certainly on frozen pitches. We'll playing like back in England. The draw for the round-of-16 of the Champions League? I'll watch it with the players on camp." Finally he said, "I wish Abidal and Berthod rapid returns from injury. I also want to keep the whole squad and I don't have any transfer demands."