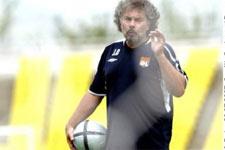 Joel Bats felt obliged to have his say on Gregory Coupet's 300th game in the Lyon shirt. The 'Hero from Guadalajara' has been present for 185 of that number in which his pupil has conceded just 146 of his 267 Olympian goals...
...while he had picked the ball out of his own net 121 times in the precedding 114 matches for OL. That just underlines the progress OL and "Greg" have made. "300 games demads respect. And I hope he goes on to play in a lot more, and pass the 400-mark for example. The best is still to come for him, most notably with the national team. Of these 300 games, the thing that jumps out ios Gregory's consistency." Any one match in particular? "I think for me, people will remember my performance in the World Cup against Brazil. For him, I think it would have to be those 90 minutes against Nantes. I was also delighted by his performance against Saint-Etienne last Sunday. It wasn't easy for him. He decided to play despite having a sore calf muscle and he pulled off a crucial save."

"I hope we'll be fresh enough to beat Lille on Friday. It depends on many things, the state of the pitch for example. An icy pitch will suit the Northerners. We saw against Saint-Etienne that it's not easy to play well on a frozen pitch. Lille are a very good team: young, well-organised with two players just in front of the defence, three more ahead of them that try to make the play and one up front to play long. So be careful, we'll have to be on our toes."